Health Hutt COVID 19 Operations Updates and Announcements
Again and again, we would like to thank all of our customers for continued support and patience. This page contains current updates to our operations in response to COVID 19. We hope your spirits are high! At this time we are slowly expanding our hours towards regular hours. While some products are still hard to get due to high demand, we are doing our best to fill the shelves and some items are making their return.
To Help Prevent Spread
Our employees are wearing masks or other face coverings in accordance with Executive Order 2020-147. We ask that our customers also comply with the mandates in the order.
Employees are arriving an hour before open to clean and disinfect before customers arrive.
We are supplying hand sanitizer and disinfecting wipes for customers to use at the stores. Every register has hand santizer that the employees are using frequently.
Please wash or disinfect your hands before shopping.
Credit cards and EBT/Debit cards are preferred forms of payment at this time to help prevent germ spread.
Please refrain from bringing your own bags or items to shop with. We usually encourage this, but at this time please use the bags we have at the store.
Self serve bulk is closed. Bulk items are prepackaged. Full bags of bulk spices can be put together for you - even for online orders!
We are now able to accept bottle returns. Please do not bring a very large quantity all at once.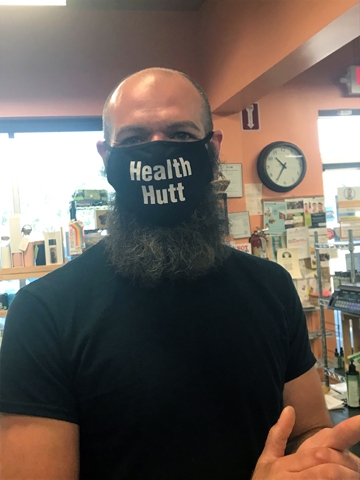 Senior Shopping Hour
The first open hour of every day is reserved for senior citizens to do their shopping. Please help us keep them safe by reserving this hour for them. River Road and Grand Haven Monday - Saturday 10am-11am Sunday 11am-12pm Henry Street Monday-Saturday 9am-10am Sunday 10am-11am
Online Ordering and Curbside Pick-up
Click the button above to acces Online Ordering Forms for each location or email your shopping list to the store at which you'd like to pick up your groceries. Include your name, phone number, and when you would like to pick-up. We will gather your items and have them available for curbside pick-up.
Grand Haven
hhordersgh@gmail.com
616-846-3026
Henry Street
hhordersns@gmail.com
231-739-1568
River Road
hhordersnm@gmail.com
231-744-0852 Orders may have up to a 24 hour turn around depending on how many orders we have Feel free to call the store you emailed your order to with any questions.
Hours of Operation
Hours are posted on the front page of the website and header of our main Facebook page. Weekly hours are beginning to expand. Monday-Saturday are as follows: Henry Street 9am - 8pm Grand Haven 10am - 8pm River Street 10am - 7pm Sunday hours have remained the same. Our hours have changed to make sure we have enough staff at all times. Health Hutt employees are arriving at an hour before each store opens to clean and disinfect commonly touched surfaces. The Century Club Retail Center has closed its doors until mid April and so our Downtwon Muskegon location is currently closed but will be open again soon. See a visual of the hours below.
Capacity Announcement
In an effort to maintain a safe shopping environment, we made a capacity announcement, which you can find below. Please send only one household member at a time to prevent overcrowding. You can call the store you want to visit beforehand to make an appointment if you are unable to wait. Grand Haven – 6 shoppers Henry Street – 6 shoppers River Road – 3 shoppers If you are unable to wait, please call the store you wish to visit ahead of time to make an appointment with no wait. We have an appointment book at each store that we can schedule your appointment in.