The Cafe is open Monday through Saturday 9am to 6pm and closed Sundays. We make eating healthy delicious. Daily we have options for vegan, vegetarian, gluten free, paleo and keto. See the made-to-order menu below!
Our primary Cafe and Deli location is at our Norton Shores store on Henry Street. The Cafe serves made to order items.
soups of the day
sandwiches, wraps and salads
smoothies
fresh juices
Lively Up Kombucha on tap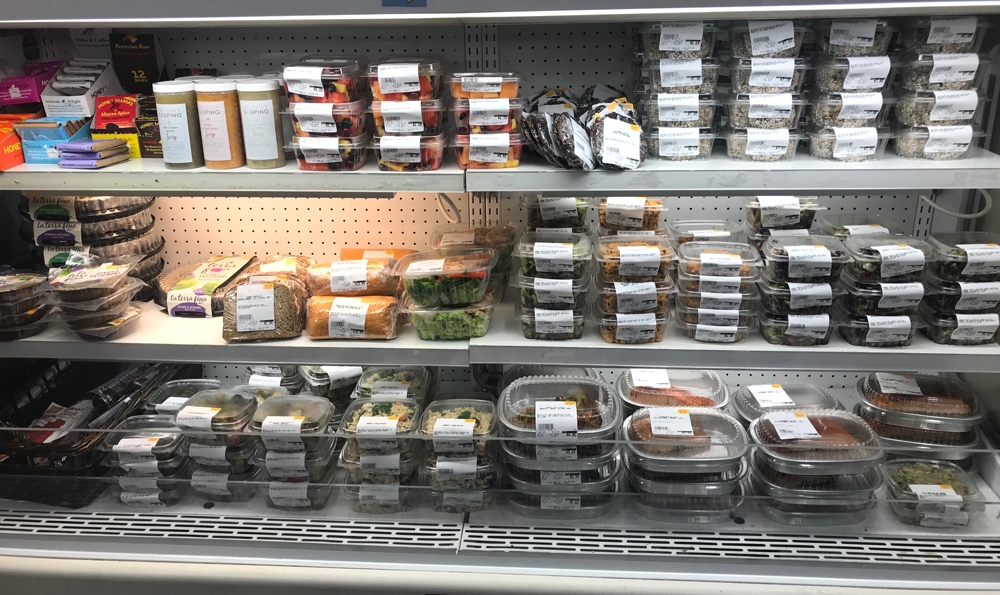 Items in our deli case change daily. The Downtown Muskegon store on W. Western Ave in the Century Club also carries some deli items. The Grab n' Go Deli includes:
desserts
sandwiches, wraps, salads
side dishes
main dishes
Fresh Juices
16 oz – $8 and 24 oz – $10
A Bunny's Dream
carrot, apple, ginger
The Gnome's Garden
cucumber, kale, celery, apples
Nature's Sprite
pear, lemon, apple, celery
Build Your Own
Choose any four: apple, beet, carrot, lemon, ginger, turmeric, cucumber, kale, celery, orange, pear
Dragon's Blood
beets, apple, carrot, ginger, lemon
SkeeTown Sunrise
orange, carrot, ginger, lemon
Build your own
apple, beet, carrot, ginger, lemon, pear, kale, celery, cucumber, turmeric
Add-ons
Coconut Water – $1
Wheatgrass – .75
---
Smoothies
Prices are listed as 16oz/24oz.
Berry Bandit
mixed berries, banana, coconut oil, almond butter, dates, ice
$6/$8
Mint Choco-chip
spinach, spirulina, maca, mint extract, cacao nibs, coconut oil, almond butter, dates, banana, ice
$7/$9
Cacao Contender
cacao powder, maca, coconut oil, almond butter, dates, banana, ice
$6/$8
Koffee Kamikaze
coffee concentrate, cacao powder, coconut oil, almond butter, dates, banana, ice
$7/$9
Chocolate Cherry
cherries, cherry concentrate, banana, coconut oil, almond butter, dates, maca, cacao powder, cacao nibs, ice
$7/$9
Raspberry Zing
rasperries, orange juice, lemon juice, ice
$7/$9
Superhero
cashews, goji berries, cacao nibs, cacao powder, maca, spirulina, coconut oil, almond butter, mixed berries, banana, dates, ice
$7/$9
Vanilla Villain
vanilla, almond butter, coconut oil, banana, ice
$6/$8
Strawberry Burst
strawberries, banana, wheatgrass, dates, coconut oil, almond butter, ice
$6/$8
Spinach Splash
mango, peach, spinach, spirulina, maca, coconut oil, almond butter, dates, ice
$7/$9
Mango Madness
mango, banana, dates, orange juice, lemon juice, ice
$6/$8
Green Machine
spinach wheatgrass, dates, strawberries, banana, ice
$7/$9
Add-ons
Protein – plant or whey – $1
Wheatgrass – .75
---
Sandwiches, Wraps , Salads
The Veggie
spinach, tomato, onion, avocado, red pepper, cucumber, ginger sesame dressing (spinach shell)
$8.00
Green x3
applegate chicken, walnut basil pesto, cucumber, tomato, romaine, avocado, red pepper, feta, cheddar (spinach wrap)
$11.00
Roasted Salmon
seasoned roasted salmon, romaine, red pepper, avocado, feta, smoked paprika dressing (chili wrap)
$11.00
Holy Patchouli
tofurky meat substitute, hummus, red pepper, onion, tomato, avocado, romaine, spinach, vegan mayo (spinach wrap)
$9.00
Raw Falafel
raw cashew falafel, romaine, kalamata olive, cucumber, onion, feta, tzatziki dressing (chili wrap)
$10.00
Turkey Club
applegate turkey, turkey bacon, tomato, cheddar, romaine, honey mustard dressing (spinach wrap)
$9.00
Chicken Ranch
applegate chicken, cheddar, red pepper, romaine, tomato, ranch dressing (chili wrap)
$9.00
BBQ Chicken
applegate chicken, cheddar, red pepper, romaine, tomato, BBQ sauce (chili wrap)
$9.00
Vegan BBQ
BBQ tempeh, red pepper, romaine, BBQ sauce, vegan ranch (chili wrap)
$9.00
Vegan "Cheeseburger"
veggie burger, vegan cheddar, romaine, red pepper, onion, tomato, mustard, ketchup, vegan mayo (chili wrap)
$9.00