At the Health Hutt we carry a variety of the CBD oil products. New CBD products are consistently being released. It is certainly a trend and for good reason. CBD has been found to promote decreased pain, enhanced sense of well-being, increased calm, improved sleep, and reduced stress. For a quick overview on what CBD is, check out our blog post What's the Hype About CBD? If you are thinking about taking CBD for the first time, please read on!
One of the main concerns people have about CBD is whether or not it will make them fail a drug test. Other frequently asked questions pertain to usage including type of product, dose and frequency. We hope to provide you clear answers here.
The main product is CBD oil, which is primarily an edible oil such as sunflower, hemp or olive oil with a concentrated solvent extract derived from cannabis flowers or leaves dissolved in it. Here is a page by Queen City Hemp on how CBD oil is made. To ensure the best quality, the type of solvent used and the type and quality of cannabis plant used is important. In the solvent extraction process other components of the cannabis plant material are inevitably extracted. Other components can actually be beneficial but could include THC. It is important to get CBD products made from hemp plants, which legally must contain 0.3% or less THC dry weight, if you are worried about THC entering your system.
So CBD alone will not cause you to fail a drug test but you have to make sure you purchase a product that does not have THC co-extracted. In order for products to be on our shelves at the Health Hutt, they must be derived from hemp and so have 0.3% or less THC. Two brands now releasing guaranteed 0% THC products are Garden of Life and MedTerra.
You should avoid getting CBD oil from unregulated or unknown sources. Products from uncontrolled sources can contain contaminants and inconsistent levels of CBD and THC. CBD oil is relatively new – scientific studies and regulations are continually being developed as our medicinal and recreational cannabis laws change. (For instance, the classification of hemp as cannabis with less than 3/10ths a percent THC concentration is in the United States and differs internationally).
An example of new regulation is the US Hemp Authority – Charlotte's Web is one of their certified companies. More regulation ensures the hemp company is selling products sourced from legal hemp, manufacturers are following standardized good manufacturing processes, growers are taking steps to follow Good Agricultural Practices, and company keeps records of production of hemp (sourcing of seeds, date of planting/harvesting, growth substrates/materials, destinations of manufacturing and sales).
It is important to get CBD oil from a reputable, trusted source that utilizes professional labs, and analytical testing. We ensure the brands we carry meet these requirements and many of the companies we carry provide their testing results on their website.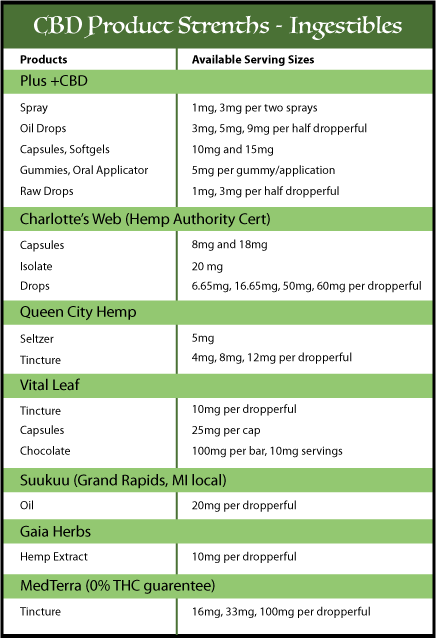 CBD products come in a variety of strengths and types. High doses of CBD have been tested to be safe and well-tolerated. For instance, a daily dose of 1500mg has been used without any reported negative effects. Even according to WebMD a daily dose of 300mg has been used safely for 6 months. However, high doses of CBD have not always proved to be more effective than small therapeutic doses such as 2.5mg daily. This is just to illustrate that any harm due to high does of CBD is unlikely.
Everyone's body is different – 1mg may work well for one person while another might be taking what would be considered extreme amount of 2000mg daily. Project CBD in this great article on CBD dosing advises that you start with a low dose and adjust it slowly if needed. So if you are wondering where to start – try starting with a 1mg daily and increase from there to gauge how it makes you feel. If you feel you may need more, continually adjust your dosage by increasing 1mg each day. Overall, any negative side effects (reportedly include dry mouth, low blood pressure, light headedness, and drowsiness) are not experienced until one cumulatively intakes over 20-30 mg in a day or more than 10mg in a single dose (Lee, 2018 Project CBD).
In the chart provided are examples of products we carry at the Health Hutt with CBD servings size options. Many of these companies also offer topical CBD products like lotions, creams, balms, and even bath bombs. If you are worried about ingesting CBD perhaps you could try a topical product first. Or you might combine topical treatments with edible CBD products for conditions involving chronic pain.
Please ask an employee at a store, call one of our stores, Facebook message or use the contact form if you have any questions about products.
---
RawlsMD. (2019, January 30). "The Science Behind: CBD Everything You Need to Know." [Blog Post] Retrieved from http://www.rawlsmd.com/health-articles/science-behind-cbd-everything-want-know#overdose.
Lee, Martin A. (2018, May 16) "CBD and Cannabis Dosing" Project CBD. [Blog Post] Retrieved from https://www.projectcbd.org/how-to/cbd-dosing
Nic at Charlotte's Web Blog. (2017, July 13). How is CBD Oil Made. [Blog Post] Retrieved from https://queencityhemp.com/2017/07/13/how-is-cbd-oil-made/.
"Cannabidiol: Uses, Side Effects, Interactions, Dosage, and Warning" WebMD, accessed March 19, 2019, https://www.webmd.com/vitamins/ai/ingredientmono-1439/cannabidiol.
Marijuana Break. (2019, March 13). Failed a Drug Test After Taking CBD Oil? [Here's Why…] [Blog Post] Retrieved from https://www.marijuanabreak.com/failed-drug-test-after-taking-cbd-oil.
The information provided on this site is intended for your general knowledge only and is not a substitute for professional medical advice or treatment for specific medical conditions. You should not use this information to diagnose or treat a health problem or disease without consulting with a qualified healthcare provider. Please consult your healthcare provider with any questions or concerns you may have regarding your condition.