Chili Roasted Carrots!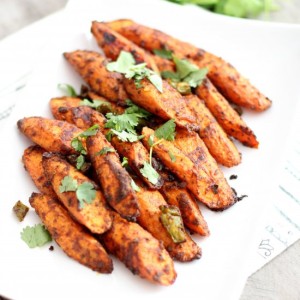 1lb carrots
1/2 tsp chili powder
1/2 tsp ancho chili powder
1/4 tsp cumin
1/4 tsp oregano
1/4 tsp pepper
1/4 tsp salt
1/4 tsp garlic
1 Tbsp Dijon
2 Tbsp olive oil
1 jalapeno, seeded and diced
1-2 Tbsp fresh cilantro, chopped (optional)
Preheat oven to 425. Cut the carrot diagonally in 3 large pieces.
Mix the seasonings, Dijon and olive oil in a bowl.
Coat the carrots with the rub and then sprinkle chopped jalapeno on top.
Roast the carrots for 15 minutes and then flip them. Roast for approximately another 15 minutes or until carrots are soft and slightly caramelized.
Yum yum!