Chunky Avocado-Sweet Potato Salad (Makes 6 Cups, Gluten Free, Vegan)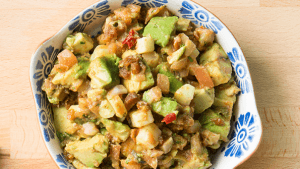 Serve with tortilla chips as a new take on guacamole or simply as a side-dish salad.
1 cup peeled, diced sweet potato (1 small sweet potato)
4 avocados, seeded, peeled, and diced
1/2 cup finely chopped dried apricots (unsulfured)
2 cups fresh salsa
Juice of 1 lime
2 tablespoons extra-virgin olive oil
2 teaspoons ground cumin
1 tablespoon minced cilantro
1/2 teaspoon salt
1. In a saucepan, simmer sweet potato in salted water until tender, 10 minutes. Remove from heat, strain, and set aside.
2.In a large bowl, combine avocado, apricots, salsa, lime juice, oil, and cumin. Gently fold in sweet potato, cilantro, and salt. Serve immediately or cover and chill for up to 4 hours.
PER SERVING (1/2 cup): 127 cal, 9g fat (6g mono, 1g poly, 1g sat), 0mg chol, 366mg sodium, 12g carb, (4g fiber, 4g sugars), 2g protein