Raspberry-Grape Smoothie (5 minute prep time-serves 2)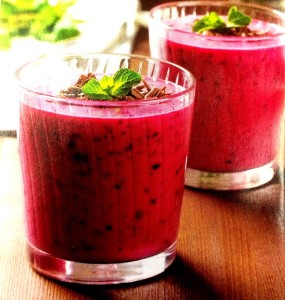 1 cup frozen red raspberries
1/2 cup organic grape juice
1 cup organic seedless red grapes
1/2 cup low-fat vanilla yogurt
2 mint sprigs (optional)
2 tbsp dark chocolate shavings, optional
Blend all ingredients except mint sprigs and chocolate in a blender
Transfer mixture to 2 glasses
Garnish with mint and dark chocolate, if desired. Serve immediately.
(PER SERVING: 160 calories, 5g protein, 34g carbohydrates, 2 g fiber, 1 g Total fat, 43mg sodium, Vitamin C, Vitamin B2, Calcium, Phosphorus, Potassium.