Almond Raspberry Muffins (makes 12 muffins…serving size=1 muffin)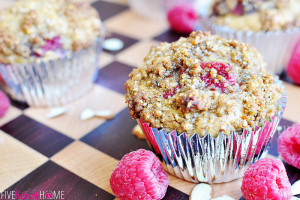 2 cups blanched almond flour
1/2 cup tapioca flour
1/2 tsp baking soda
1/4 tsp finely ground sea salt
3 large eggs
1/3 cup pure maple syrup
1/3 cup liquefied virgin coconut oil, or ghee or unsalted pastured butter,melted, plus more for muffin tin (optional)
1 tsp almond extract
1 cup fresh raspberries
Crumble Topping, (optional):
1/4 cup coconut sugar
1Tbsp almond flour
1 Tbsp tapioca flour
1 Tbsp liquefied coconut oil
pinch of salt
1. Make muffins: preheat oven to 350 degrees. Grease a 12-cup muffin tin or line with paper liners
2. Sift flours together with baking soda and salt into a medium-size bowl. Whisk together eggs, maple syrup, oil, and almond extract in another bowl.
3. Pour dry ingredients into wet ingredients and stir until well combined. Gently stir raspberries into batter and spoon mixture into prepared muffin cups.
4. Make optional Crumble Topping: Stir crumble ingredients in a small bowl and sprinkle evenly over batter.
5. Bake for 20-25 minutes, until slightly golden on top. Serve warm.
(Per serving: 176 calories, 5 g Protein, 21 g Carbohydrates, 1 g Fiber, 9 g Total fat (7 g sat, 1 g mono), 67 mg Sodium, Manganese, Vitamin B3)